Hire A Trusted Family Owned* Affordable Reliable, North Carolina Electrician "near me" for the Cary, NC Areas.
CALL (336) 228-3300.
BUSINESS HOURS
Monday – Friday: 8:00 am to 5:00 pm
Emergency After Hours Available !
Hire Electrical Service Providers, Inc. Cary's Top Rated* Best Electrical Repairs, Replacements and Installations Services
1) Affordable Panel replacements & Sub Panels installations by electricians in Cary NC
2) Affordable Electrical Upgrades for Basement Re-Wirings by electricians in Cary NC
3) Accessible Circuit Breakers, Fuses, Knob & Tube repairs by electricians in Cary NC
4) Lighting – Indoor, Outdoor & Security installs by electricians in Cary NC
5) Outlets, Switches, Plugs & GFCI done by electricians in Cary
6) Aluminum Wiring electrical services near me in Cary
7) Home Rewiring by electricians near me in Cary
8) Affordable Ceiling Fan Installation Cary
9) Weatherheads and Meter Sockets Cary
10) Affordable Exhaust & Attic Fans Cary
11) Affordable Renovations Cary
12) Smoke & NC2 Detectors Cary
13) Surge Protections near me in Cary
14) Whole House Generators near me in Cary
15) House 220v Wiring near me in Cary NC
16) House Inspections near me in Cary NC
A) Affordable Solutions On-Time Electrical Repairs near me in Cary
B) Straightforward PLATINUM Pricing* in Cary
C) Guaranteed Electrician Repairs by Jouneman electrical contractor in Cary
D) A Certified Electrician in Cary
E) Clean & Respectful
Same-Day Cary, NC Electrical Repair Services Available for You:
Hire Affordable Solutions with Electrical Service Providers, Inc. for Residential House Rewiring Services for Cary, NC
We get the job done RIGHT in a quick and efficient and convenient timeline for you. Electrical Service Providers, Inc., in Cary, NC. began outperforming wiring services to new construction, and for home remodeling projects in Cary, as well as residential homes. Our Cary NC company's president identified a market for commercial and residential electrical installations, circuit board panel repairs, and generator replacement services for not only Cary homes but businesses independent of new construction for Cary NC. CUSTOMER SATISFACTION is an IMPORTANT KEY.
Our knowledgeable electrician professionals know that you want you to speak directly to a PRO and not an answering machine. Your questions may seem small; At Electrical Service Providers, Inc., your items will always receive the attention that it deserves. We believe in making the entire experience as straightforward as possible. We dispatch fully stocked trucks in Cary. We use Flat Rate Pricing – you will know your cost before we begin your service. Our technicians arrive at your property in Cary, NC, an electrician in uniform in a stocked truck, and we always clean up before we leave. You invite us into your home in Cary or business in Cary; it is our goal to leave it better than we found it.
We get the job done RIGHT in a quick and efficient and convenient timeline for you.
Our Wide Range Of Home Improvement Products/Services Means You Only Have To Make One Call. Contact Our Affordable Electricians near me in Cary, NC Today. Our locally owned electricians in Cary are Top 10 rated Local Electricians near you for the Cary, NC areas That Care. Family Owned and Operated electricians With 30+ Years Experience. Our Professionally Trained Electricians for the Cary Metro and surrounding areas Provide Quality residential electricians in Cary, NC, for not only your homes in Cary and businesses Alike. Whatever your electrical problem, the trusted, on-time electricians at Electrical Service Providers, Inc. in Cary, NC, can do wiring, troubleshooting, circuit panel repairs in Cary, and A LOT MORE !
Top 10 Rated, Best and Affordable Residential Electricians services "near me" for Cary, NC
Our Wide Range Of Products/Services Means You Only Have To Make One Call. Contact Our Electricians in Cary Today Whatever your electrical problem, the trusted, on-time electricians at Electrical Service Providers, Inc.in Cary will provide troubleshooting and repairs in Cary, and we get the job done in a quick and efficient timeline.
1) Home Updates, Repairs & Replacements near me in Cary NC
2) After-Hours Emergency Service near me in Cary NC
3) Outlets, Switches & Dimmers near me in Cary NC
4) Renovations & Remodels near me in Cary NC
5) Safety Inspections near me in Cary NC
6) Breakers & Fuses near me in Cary NC
7) Panels & Subpanels near me in Cary NC
8) Surge Protection near me in Cary NC
9) Wiring & Rewiring near me in Cary NC
10) Pool & Hot Tub Wiring near me in Cary NC
11) Indoor & Outdoor Lighting near me in Cary NC
12) Ceiling Fans near me in Cary NC
13) Inspections and Repairs near me in Cary NC
14) GFCIs & AFCIs near me in Cary NC
15) Dedicated Circuits near me in Cary NC
16) Safety & Savings Plan near me in Cary NC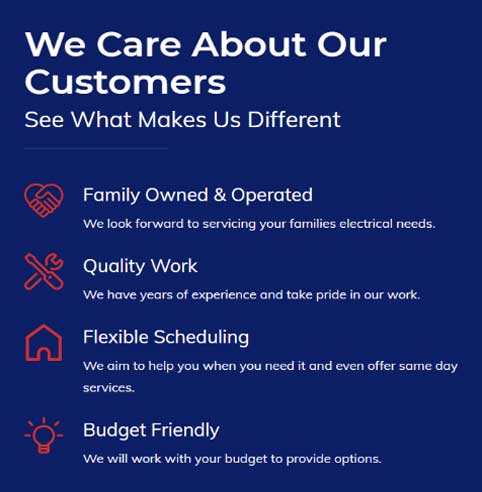 The Best Top 10 Electricians near me in Cary, NC
We will go over each option in detail so that you can have a complete understanding of what your electrical installations in Cary or electrical repair project will entail. Most homes in Cary need residential electrical repairs services from time to time, And these types of house residential electrical repairs in Cary NC finished by the BEST PRO professional Cary electrician near you.
Modern technology does not always work well with older, outdated Cary electrical systems from building new constructions in NC. Because of the inherent danger involved. Upgrading your electrical system can be an essential aspect of remodeling in Cary, whether you live in an older home in Cary or suddenly find that you have more technological and electrical needs, perhaps for a home office in Cary Product Brands Used Allied, Broan, Cutler-Hammer, General Electric, Ideal, Juno, Kohler, Leviton, Lutron, Siemens, Square D, Generac.
Service Area
Greensboro, Durham, High Point, Cary, Asheboro, Cary, Eden, Reidsville, Roxboro, Cary, Mebane, Summerfield, Carrboro, Oak Ridge, Mayodan, Rougemont, Cary, Cary, Colfax, Jamestown, Bahama, Trinity, Yanceyville, Elon Zipcodes 27511 27512 27513 27518 27519 27539 27560 27606 27607.
The electrician's crews in Cary NC that did the electrical installations were fantastic. Always courteous, always engaging, but still hard working. Coordination with city inspectors in Cary and others who had an interest in the project done exceptionally well. When it came time for the final payment, the Cary electricians company would not take it until the generator ran a couple of its weekly test cycles, and I was thrilled. The owner of the Cary company even helped me with another minor issue I had and would not accept any payment. Besides the professionalism, this electrical contractor company in Cary NC scored big points in communication. Each time I called or needed a question answered, the owner of the company either called, emailed, or texted me very quickly. It seems today that getting in touch with anyone is a nightmare.
Simply put, I would recommend Electrical Service Providers in Cary to anyone who needs their service. I can assure you they will be my first call for any other projects or services I require and need to hire an affordable electrician in Cary, NC.
Randy J., Greensboro, NC

I called Electrical Service Providers near Cary, NC, because we needed to have house ceiling fans replaced in Cary. I received immediate contact from their office. The Project: There were many fan Installs in Cary, also a few electrical repairs for Fixtures. The electrician for Cary areas performed a quality service in a timely and efficient manner. He also took the time to answer all of my questions, providing an estimate for future service. I highly recommend this company for electricians to hire in Cary, NC. I have a vaulted ceiling and wasn't sure what to buy. Mr. Helton came to the house to survey the situation and told me exactly what to purchase. His installation went flawlessly, and he was very courteous. I would hire him again."
Suzanne D.

This electrical contractor company in Cary, NC, is a gem, Assessment: Andy, the owner, is incredible, And we came to like him personally as well as professionally and will hire him without delay in the future. I would not consider hiring anyone else for any electrical work in Cary NC Assessment: .1) Internal: Electrical Panel Updates in Cary and the Workmanship was-Excellent! Assessment: The properties External: Installation of Grounding Poles in a Timely Fashion. 2) Customer Service Department: was Excellent! The electricians in Cary kept me informed and addressed my needs in a swift, caring manner. Very Professional! I knew I could rely on whatever promise, which concerning inspection dates and times and final project completion. I hired the best electrician in the Cary North Carolina area and HIGHLY recommended!
Pat F.

Dugout a broken post lamp pole in my front yard in Cary, NC, and set the new one in a proper foundation in the garden, even making sure the lantern was at the right height for me to change the bulb easily. He worked carefully around landscape plantings of our Cary NC home and finished the whole job in under two hours, Thanks! And to make sure he had my correct address. He arrives as scheduled, prepares with the tools needed, and demonstrated knowledge of the electrical equipment near me in Cary requiring the service. Andy had a new battery to replace mine, which was very low. I am pleased with his work and agreed to be placed on his list for service next year.
David J.

I have an older home in Cary. This electrician worked his heart out to fix any problem that he encountered. He was not discouraged about any question I felt that could up. He fixed it. I know he was a real experience electrician. Very professional. I am happy, very excited that I got everything done. He worked with me on time and dates that I could be available. I have already told my friends about the service and the electrician in Cary. They gave him a call.
Judy F.

After getting several quotes from other electricians in Cary, North Carolina, I decided on ESP to install a whole-house backup generator for our home in Cary. From beginning to end a thoroughly professional operation. Never felt rushed or pushed, and once we ordered the equipment, all work was performed on time and as quoted. Technicians were courteous and hard-working and cleaned up each day. Took extra care to cut/place conduit and just, in general, did a great job. I have also had Andy Helton and crew back out for other electrical issues and have been extremely happy with response time and effort. Great company.

I had a great experience with the Electrical Service Providers, Inc in Cary today. Throughout the week, I coordinated with Andy C. to setup up a time, given it was the Fourth of July weekend. The company sent Nathan H. this morning, and I appreciated that he was early and very knowledgable. His straight forward, professional approach was ideal, had a great disposition about the task, excellent attention to detail, and was a friendly guy. Overall I would call Electrical Service Providers back for additional work in Cary.
David M.

Electrical Service Providers electricians in Cary had great reviews on Home Advisor and Yelp and Google and emergency generator repair services for Cary. With that said, the response time was great. The communication from the electrician near me in Cary ( Andy) was outstanding! He was prompt, professional, and gave 110% effort to work through the troubleshooting process. It was an electrician emergency service for Cary, on the weekend, after hours, and we were back up and running in about 24 hours. So all in all, it was worth it.
John P.